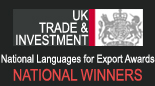 Accent Consultants
24 Hartford Road, Huntingdon,
Cambs., PE29 3QE, United Kingdom.
Tel.: + 44 (0)1480 412 120
Fax: + 44 (0)5601 151 800
Mobile: (0)7804 251237
E-mail: info@accentconsultants.co.uk
Contact Us

Registered with the Business Link
Supplier Brokerage Service
Translation Software
One way to increase translation efficiency and quality within the localization process is by the effective use of translation software. We use the most state-of-the-art CAT (Computer Assisted Translation) tools to serve our customers. They generate what is called a Translation Memory, and have features for managing terminology, allowing the translator to be consistent and to store the terminology for future projects. These programs also have quality assurance features that enable a number of automated checks to be run on translations. For example, it is possible to check whether numbers have been transposed correctly, whether segments exceed a specified length, or whether incorrect terms, expressions, or spellings have been used. Although we use popular programs like DejaVu™ and Wordfast®, our preferred software package is SDL Trados™, as it is the world's leading translation software.
Translators and proofreaders use it to ensure that terminology is consistently used within and across documents. Consistency is thus guaranteed in all your corporate communications, both linguistically and stylistically.
Our Translation Memory Manager will ensure that individual client glossaries are carefully built and maintained. Having client-approved translations of specific terms and phrases can make the translation process significantly faster.
They ensure the consistently high standards our clients always receive from us. They allow us to pay great attention to detail and therefore increase customer satisfaction.
They can handle even the most recent file formats, such as Microsoft Office 2007 (including DOCX/PPTX/XLSX), Adobe FrameMaker 8.0, Adobe InDesign CS3 and QuarkXPress 7.x (via CopyFlow from Napsys*).
Professional Quality Translations
Subject Areas Covered
Competitive Pricing
ALL LANGUAGES COVERED, FROM AFRIKAANS TO ZULU
"We started working with Accent Consultants in 2005 and they have always delivered excellent quality translation work within very tight deadlines, even when the documents had quite a complicated layout. They have always made sure they have fully understood the content so that the terminology and register of the language used were correct, and that has enabled us to communicate with our end-clients effectively and work together. I would have no hesitation in recommending Accent Consultants for all your language needs."

Jenny Moore
Account Manager
Red Communications

"I was looking for an accurate translation of a critical legal document within short time scales. The Accent Consultants team were very responsive, and soon after my phone call the translation team were at work. The translation was turned around very quickly, and I'm very pleased with the quality. "

Ian Bradley

Independent Pharmaceutical Industry Consultant

Ian C Bradley Associates Ltd, Strategy & Organisation Consulting