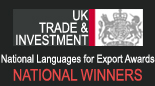 Accent Consultants
24 Hartford Road, Huntingdon,
Cambs., PE29 3QE, United Kingdom.
Tel.: + 44 (0)1480 412 120
Fax: + 44 (0)5601 151 800
Mobile: (0)7804 251237
E-mail: info@accentconsultants.co.uk
Contact Us

Registered with the Business Link
Supplier Brokerage Service
Professional Quality Translations
We have built up an enviable reputation through our rigorous approach to translation work.
Translators professionally qualified who translate into their mother tongue
Translators experienced in the specialist or related field
Personal visits to discuss difficult layouts or technical details
Quality work always ready on time, every time
Pre-delivery check
Up-to-date virus checkers
Strict client confidentiality at all times
Delivery by e-mail in Word, PDF or any other format required
Quality Management System (QMS) in place and always implemented.
Successful translation lies at the very heart of our business, and our clients span a huge range of industries. Underpinned by a total commitment to quality, our translation service draws on our trusted network of highly skilled professional translators. Our translators specialize in particular sectors that together embrace every industry, as well as all types of documents ranging from contracts, press releases and marketing materials through to technical specs, data sheets and software.
Clients who call on our translation services in Cambridge are either looking to expand their business abroad or simply want to communicate in the language of their clients. Whatever the case and whatever the type of translation services needed, we have a native language translator to match the needs of your business and your specific requirements.
We don't only offer translation services to customers in Cambridge and its surrounding areas; we work for clients all over the UK and abroad. Some of the locations where we have a big presence are St Neots, Peterborough, Stevenage, London, Watford, Birmingham, Newcastle and Bristol to name a few.
Our translators are talented linguists handpicked for their combination of foreign language skills and knowledge of a particular sector, which means that our clients benefit from superb work that has all the detail and integrity you would expect from someone who knows the industry they're working with. From electronics and life sciences through to legal, IT and defence, we are capable of working effectively in every sector at any level.
Medical and pharmaceutical translations for instance require highly specialised teams. Through many years translating and back-translating questionnaires, discussion guides and clinical trials, we have a team of qualified and specialized experienced medical and pharmaceutical translators that have been providing these skills to major pharmaceutical companies, medical devices manufacturers and healthcare consultants for more than 20 years.
Legal translations are another of our specialists field, where we can provide you with, quick, efficient and accurate legal translations. We have a team of highly skilled individuals who we call upon to provide top quality legal translation services to our customers. We work with some of the top law firms in the UK providing them with a service that they can trust; that is why our clients return to us time and time again. We work with solicitors, lawyers, courts, councils and the police
Our reputation for high quality professional translation services has been built up over many years... And this reputation is for delivering accurate, high quality professional translation services, on time and at a very affordable price. Our friendly professional translation team will guide you through the translation process ensuring your document translation project runs completely smoothly.
Translation Software
Subject Areas Covered
Competitive Pricing
ALL LANGUAGES COVERED, FROM AFRIKAANS TO ZULU
Testimonials
"I have been using the services of Accent Consultants for several years now and I am happy to recommend them to any firm looking for an efficient, friendly and thoroughly reliable service. Speed and accuracy are key issues with legal documentation, and I have been particularly impressed by their ability to handle quite complex documents, often in a variety of formats and frequently originating in other jurisdictions, with a high degree of professionalism."
Michael Young

Head of Information

Hewitsons LLP

"We have used Accent Consultants for over six years, primarily translating individual words and paragraphs of text into a variety of different languages. Translations are supplied in a variety of different formats to suit our needs. In order to supply a more accurate translation, Accent Consultants are quick to point out any irregularities in requests, where a more detailed description of the term to be translated may be required. Due to the nature of our business, client turnaround times are always very tight; however Accent Consultants continually rise to the challenge to help us meet these deadlines by providing a fast, friendly and efficient service that is second to none."

Roger Mingay
Studio Manager
Byways Ltd

"I needed a detailed marketing document translated into Mandarin Chinese urgently. A friendly, quick, accurate and reasonably priced service was what I got from Maria at Accent Consultants. Thanks again!"

Chris James

Sales Director

Danilo

"I have worked with Accent Consultants in several engagements and they have always exceeded our expectations. They have always provided timely and accurate support even under extremely challenging deadlines, and at a very reasonable cost. In the last project, we needed an Arabic pharmaceutical translation at very short notice and Accent Consultants managed to deliver a very accurate translation in a timely manner."

Ana Plata

Senior Consultant

IMS Consulting Group