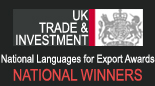 Accent Consultants
24 Hartford Road, Huntingdon,
Cambs., PE29 3QE, United Kingdom.
Tel.: + 44 (0)1480 412 120
Fax: + 44 (0)5601 151 800
Mobile: (0)7804 251237
E-mail: info@accentconsultants.co.uk
Contact Us

Registered with the Business Link
Supplier Brokerage Service
Competitive Pricing
We will always quote competitive rates for specific jobs, whatever the task. We have standard prices for mainstream European languages, Scandinavian languages, Eastern European languages, Asian languages and African languages.

We will normally charge per 1,000 words of the original file; these will be counted into the target language if an electronic copy is not provided. If you only require a small text translated, that will normally fall under our minimum charge.
Keeping our overheads low means that we have some of the most competitive prices in the industry. Whilst you may find lower prices (if you look hard enough!), you will find that these rates do not include proof reading, and may even mean your translation is being carried out by someone who is either not a native speaker of the language or is not a qualified and experienced professional.
Providing you with simple and competitive pricing paired with the highest quality in the marketplace is a key element to our mission. Whether you require a French translation, a German translation, an Italian translation, a Spanish translation or an Arabic translation, we will deliver a high quality translation at the most competitive pricing.
Professional Quality Translations
Translation Software
Subject Areas Covered
ALL LANGUAGES COVERED, FROM AFRIKAANS TO ZULU
Testimonials
"We have used Accent Consultants to translate documents from English to German. These were quite lengthy manuals containing detailed technical engineering terminology for plant and machinery operators. On every occasion this was completed with 100% accuracy and in a very short time relative to the size and complexity of the document. Their rates are very competitive. We can testify that they provided a high quality service at a fast delivery and a good price. Based on our experiences we highly recommend this company."
Paul Allen
Purchasing Manager
GEA Process Engineering Ltd.
"We are exhibiting at the Piscine Exhibition in Lyon in November 2010, and I needed to move quickly to translate brochures and displays for our stand. I obtained quotations from three companies and Maria's was the best. The speed of translation, quality of communication and professional advice from Accent Consultants enabled me to achieve the deadlines for the printing of brochures for the Lyon Show. Thank you for the speed, efficiency and professionalism in the way you tackled and completed these jobs!"
David Dunn
Product Manager
Aligator Systems