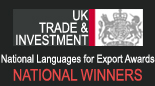 Accent Consultants
24 Hartford Road, Huntingdon,
Cambs., PE29 3QE, United Kingdom.
Tel.: + 44 (0)1480 412 120
Fax: + 44 (0)5601 151 800
Mobile: (0)7804 251237
E-mail: info@accentconsultants.co.uk
Contact Us

Registered with the Business Link
Supplier Brokerage Service
Intensive Spanish Language Courses For Businesses
You find yourself being asked to attend a trade fair or an important business meeting abroad with Spanish speaking customers or colleagues. Or you may be about to be seconded to a Spanish speaking country. What you need to improve your Spanish language skills is an Intensive Spanish Course.
Our speciality is one-to-one and small group tuition aimed at businesses and individuals who seek the benefits of a personalized course.
All our tutors are native speakers.

They have university degrees.

They have been trained in teaching their own language.

They are familiar with most teaching strategies and able to apply them according to your needs.

They have teaching experience at all levels, from beginner to advanced.

They have experience of teaching business language to business executives.

They have the right personality

and level of professionalism.

They are passionate about languages.
Design of your Intensive Spanish Course
Our Intensive Spanish Courses are tailor-made to your specific needs. When designing your intensive Spanish course we take into account your current knowledge, the amount of time you have to devote to the Spanish language and the level you are looking to achieve. Whether you have a week or two to get ready, or a few months to spread your intensive Spanish language course over, we will make sure you get the most out of your Spanish lessons. We will design a tailor-made Intensive Spanish Course, ensuring that it satisfies all your needs and encompasses terminology specific to your industry sector.
Location of your Intensive Spanish Course
Your Intensive Spanish Course can take place at your place of work or at an alternative venue of your choice. We have organized many Spanish intensive courses on the basis of 6 hours tuition per day for 5 days (one or two tutors) over a period of several weeks; we have also run Spanish intensive courses of two to three hours of Spanish lessons a day over a week or two. All intensive courses will be planned to suit individual needs depending on your level of prior knowledge and the standard you wish to achieve.
Accent Consultants specializes in providing in-company training, so that you don't have to waste time travelling to your Spanish course. We will send a native Spanish tutor with business experience directly to your office. We usually recommend a two hour session each week over a period of up to 50 weeks, depending on your prior level of attainment and the standard you are aiming to achieve.
We have been working at the heart of Cambridge core businesses for over 20 years and our reputation precedes us. During that time we have satisfied many customers ranging from large multi-nationals to small start up companies.
We can arrange any Spanish language course you may require in the heart of the city of Cambridge or in any of the several business parks around it, if having the training in-house doesn't suit you.

Clients in Cambridge come to us who are either looking to expand their business overseas, or who want to communicate in the language of their clients; sometimes the training is offered as a benefit to staff. In each case, we have a Spanish tutor to match the needs of your business and your requirements.
We don't only arrange Spanish courses in Cambridge and its surrounding areas; we also organize Spanish courses all over the UK, and even abroad when required. Some of the locations where we have a big presence are St Neots, Peterborough, Stevenage, London, Watford, Birmingham, Newcastle and Bristol to name a few.
Whatever your specific Spanish language training needs and wherever you are based or need the Spanish language lessons to take place, we are sure to be able to cater for you. Simply contact us if you wish to discuss any of the options available for Spanish language training courses.
Time of your Intensive Spanish Course
Your Intensive Spanish Course can be one-to-one or for groups of up to 8 people from your company, and it will always be arranged for a time that suits you and your schedule. Our usual times of training are 9.30 a.m. to 5.30 p.m., but this can be altered to suit your work schedule; we have often scheduled Spanish intensive courses from 8.00 a.m. to 10.00 a.m. and / or from 4 p.m. to 6 p.m. Some delegates prefer a course of mornings or afternoons only, which we would be happy to arrange for you. If you are having one-to-one Spanish lessons you have the added benefit of being able to re-arrange the day and time of your Spanish training session with your tutor each week if need be.
Intensive Foreign Language
Courses Available

Intensive French
Language Courses

Intensive German
Language Courses

Intensive Italian
Language Courses

Intensive Spanish
Language Courses

Intensive Russian
Language Courses

Intensive Chinese
Language Courses

Intensive Japanese
Language Courses

Intensive Dutch
Language Courses

Intensive Portuguese
Language Courses

Intensive Hungarian
Language Courses

Intensive Arabic
Language Courses

Intensive Greek
Language Courses

Intensive Czech
Language Courses

Intensive Swedish
Language Courses

Intensive English
Language Courses
And many more!