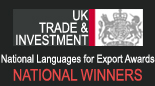 Accent Consultants
24 Hartford Road, Huntingdon,
Cambs., PE29 3QE, United Kingdom.
Tel.: + 44 (0)1480 412 120
Fax: + 44 (0)5601 151 800
Mobile: (0)7804 251237
E-mail: info@accentconsultants.co.uk
Contact Us

Registered with the Business Link
Supplier Brokerage Service
Website Translation and Localization
Accent Consultants approaches the translation and localization of multilingual websites as a marketing exercise. Our website localization will produce a website which is not only accurate, but that also reads as if it had been originally written in the target language.
Website localization is the process of adapting an existing website to make it accessible, usable and culturally suitable to a target audience. The process of website localization is multi-layered, and it therefore needs not only linguistic expertise but also cultural awareness. Website localization will be problematic if any of the components are absent from the process.
Accent Consultants strongly believes in the preservation of the content and message of your website. Therefore, the localized version is a creative re-writing of your content and message, rather than verbatim translation. Our website translation will be culturally-specific and available in the language of the target audience, yet ultimately retain its originality.
There are, however, some other issues to consider. For instance, translating from English into some European languages can mean that the amount of text increases (by 15% in the case of Spanish, or even more in the case of German). This can be a problem if you have a template system already in place, for instance. So we will work with you to ensure that the website translation we provide addresses all these issues, and we will deliver it on time and on budget.
Our translators will also examine all aspects of the source content and will consider any local particularities such as religion, metaphors, and sense of humour. Our project managers will liaise with you and the translators to ensure that all branding, product names and trademarks remain consistent throughout the different language versions, and we will create and maintain terminology glossaries to this purpose.
We can localise all your keywords and metatags to achieve the best optimization possible in foreign search engines, as well as localizing all text files, menus, bitmaps and icons. We can also adapt the layout to accommodate longer text strings or bidirectional languages such as Hebrew or Arabic.
Our software will also check the software localization once the content has been translated to detect any missing translations or keys, and even any overlapping text before the project is completed.
We can work with all the major Windows software formats and all tagged formats such as XML or HTML. We can carry out all the translation off-line and return it for you to incorporate into your site, or we can carry it out online via your CMS. We can do the same for the editing of existing files and any ongoing updates you may need further down the line.
Testimonials
"Opus Instruments have been in business for approximately 18 months and from the beginning all our customers have been based outside the UK. Not speaking anything other than school French and German, we have needed to call upon the experts. Accent Consultants have provided us with translations of everything from our entire website to a three line e-mail, both from and into English. All assignments have been carried out with care and accuracy, both in the style of the narrative as well as the terminology. Most of our requirements have a technical basis and Accent are able to call upon translators with the appropriate knowledge. Turnaround times are excellent and Maria and her staff are very helpful and friendly."
Karen Robinson
Office Manager
Opus Instruments Ltd
"Zigma Ground Solutions Ltd required advice, knowledge and understanding of translating web content in to a number of different languages and after much thought it was decided we would initially translate the site into German. Accent Consultants were very helpful, prompt, knowledgeable and professional. We will definitely be using them again for our site translation in to French and Spanish. "
Shelly MacDermott
Marketing Manager
Zigma Ground Solutions Ltd.
"I needed our website translated and found Accent Consultants easily on Google, sent an e-mail and got a response back very quickly and clearly as to how work would price it up, and how long it would take. Communications were always very quick and very clear. Very impressed with the professionalism from Accent Consultants all round. No doubt we will be in touch again if we need more translation work doing. Many thanks."
Karl Gamble
Customer Service Manager
Bright Lightz