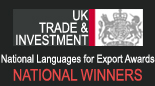 Accent Consultants
24 Hartford Road, Huntingdon,
Cambs., PE29 3QE, United Kingdom.
Tel.: + 44 (0)1480 412 120
Fax: + 44 (0)5601 151 800
Mobile: (0)7804 251237
E-mail: info@accentconsultants.co.uk
Contact Us
†

Registered with the Business Link
Supplier Brokerage Service
How long will it take to learn a foreign language?
You would be surprised how quickly you make progress, as you donít need to acquire ALL of the language. A 40 to 60 hour module will get you Survival and Socializing Skills, and Company and Product Presentation skills can be acquired in around 40 hours. Telephone technique for receptionists with no previous knowledge of a language can also be trained within 40 hours.
Whether you require only basic language skills or advanced speaking and writing skills we have the specialists, experience and know-how to design and implement a successful tailor-made training programme.
Testimonials
"Having to deal with organising a wedding abroad is no easy task, especially when it came to the organising the documentation: having it translated, certified, Apostille stamped and then the Apostille translated - all within the space of a 2 week window.
I did not even know where to start when I contacted Accent in a blind panic; they were absolutely fantastic from the very first telephone conversation explaining the procedure, the timescale that I could work towards and reassuring me that they would be able to deliver in time.
Everything was so easy! I sent off the relevant documents and they looked after everything else whilst keeping me 100% up to date along the way. I have just received my documents with days to spare. I cannot explain how much stress was reduced by Accent; absolutely outstanding service, and I would contact them without any hesitation should I ever need their services again."
Helen Burge
Adviser
A4E Ltd