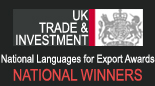 Accent Consultants
24 Hartford Road, Huntingdon,
Cambs., PE29 3QE, United Kingdom.
Tel.: + 44 (0)1480 412 120
Fax: + 44 (0)5601 151 800
Mobile: (0)7804 251237
E-mail: info@accentconsultants.co.uk
Contact Us

Registered with the Business Link
Supplier Brokerage Service
Tailor-Made Language Courses
Our approach encompasses all aspects of the course:
Selecting a tutor with the right experience and personal approach.
Free initial assessment of candidates' level of current attainment.
Provision of appropriate course material and methods.
Inclusion of specific industry vocabulary and situation role play.
On-going monitoring of participants' progress and the validity of the course material.
Setting - either formally or informally - measurable, achievable goals for each participant within the overall objectives. This may include taking professional language exams if it is deemed appropriate.
Timing and venue of sessions to maximise attendance and absorption of information, whilst minimizing impact on business schedules.
Making each session an enjoyable experience for all participants.
Accent's major successes have been achieved where we have been able to build a medium to long-term relationship with our clients. This aids motivation and commitment on the part of participants, and helps our language tutors to build the knowledge of participants' needs, which is vital to achieve effective improvement in their language capability.
As one of the leading language training companies, we specialize in tailor-made language courses, with over twenty years of experience creating programmes for companies across the country. Whatever kind of language programme you feel may be of benefit to your staff, we are ideally equipped to design and implement this for you.
We offer 20 different languages, ranging from the traditionally popular languages like Spanish and French to the typically less demanded languages such as Arabic, Japanese and Swedish. All of our language teachers are native speakers and fully qualified, with many years' experience teaching languages to professionals.
Our language tutors are qualified, dedicated native speakers who create individually-tailored courses that address both your language targets and learning style. The curriculum is developed specifically for each participant or group, and can be adjusted over the duration of the course. Whether the main focus is improving business or general language skills, you can be sure our experienced language teachers will guide you through what you need to know in a way that best suits your learning style.
Our business language courses cover general foreign language skills, as well as focusing on the specific foreign language requirements of the individual or group. Courses can incorporate particular skills -such as public speaking, business correspondence, or negotiation skills- or include language terminology related to specific industries or sectors. Courses can be designed to support language needs from any field, including law, medicine, and HR amongst others. Whatever your company's specific requirements, we will build a program to suit those needs.
Funding Schemes for Language Training
Contact us
ALL LANGUAGES COVERED, FROM AFRIKAANS TO ZULU
Testimonials
"We chose Accent Consultants to provide our Mandarin language training courses. Having lessons with a native speaker tailored to suit my abilities and aims has been extremely useful. Accent has helped me to progress quickly towards my goal of learning business-oriented Mandarin. I always look forward to the next lesson!"
Chris Bowdon
R&D Physicist
Johnson Matthey
''To have tailor-made lessons which are run at your pace to work on your strengths whilst encouraging you to keep learning and motivated, is just great. The staff and tutors are totally flexible to your diary commitments, and design the lessons to fulfil your specific needs and requirements. The staff is super friendly too!''
Rhiannon Slade
Language Co-ordinator
Company details available on request
"Conference Cambridge is very pleased with the service offered by Accent Consultants. Maria responded to our enquiry quickly and matched us with an excellent tutor who has been able to devise a suitable programme for us, even given the fact that we have to cram a lot into a very short space of time. We're looking forward to using our new German language skills to develop our international communications strategy. Danke Schön!"
Judith Sloane
Conference Cambridge
Assistant Manager
"We have been using Accent Consultants to provide weekly language lessons (French, German and Italian) for almost 10 years. The continuation of the lessons is testament to the professional, reliable and friendly service provided by the tutors. We highly recommend Accent Consultants."
Paul O'Connor
Operations Team Leader
and Emma Page
Business Analyst
GMSL